Colleen Hamilton-Lecky

2018-2019 Fulbright Recipient
Fulbright Program: English Teaching Assistant (ETA)
Field of Study: English
Country of Study: Malaysia
Teaching Abroad
As a World Arts and Cultures major and Education minor, I have focused on issues of literacy and diversity in the United States and Asia, prompted by a visit to Malaysia in 2015. I hope to build upon my current teaching experiences to become a more effective educator when I return to the United States. Additionally, I have worked closely with the Muslim Student Association and hope to correct misconceptions about Islam while remaining a positive representation of America throughout my visit.
While abroad, I will be spending my grant period in Malaysia, studying how poetry can be used as a catalyst for inter-group dialogue and social change.
---
Heather Vaughan

2018-2019 Fulbright Recipient
Fulbright Program: English Teaching Assistant (ETA)
UCLA Department: Chicanx Studies
Country of Study: Mexico
Teaching Abroad
Teaching English in México, a country with rich cultural and linguistic diversity, will help me cultivate skills for my future endeavors as a teacher in Los Angeles. A majority of LAUSD students are Mexican-American; effectively serving this population requires cultural humility and knowledge of community conditions. I will be an asset thanks to my experience conducting research on ethnic studies, using arts-based pedagogies to teach health, and serving as a peer coach and group facilitator.
I will serve as an English Teaching Assistant at the Universidad Tecnológica de Tabasco in Villahermosa, México. Additionally, I plan to work with the community to develop an arts-based health education initiative.
---
Rachel Mernoff
2018-2019 Fulbright Recipient
Fulbright Program: Research
UCLA Department: Germanic Languages
Country of Study: Malawi
Research Abroad
My project is a continuation of the work I did as a Lemelson Anthropological Honors Student, a two-year departmental honors program with the UCLA Department of Anthropology, for which I spent the summer after my junior year conducting fieldwork in Malawi. As a continuation of this project, I will be investigating how global health partnerships between Malawian hospitals and American institutions effect the practice of medicine, and ultimately the delivery of patient care.
---
Maia Woolner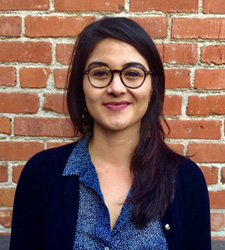 2018-2019 Fulbright Recipient
Fulbright Program: Research
UCLA Department: History
Countries of Study: France
Research Abroad
My research investigates the problem of chronicity and the doctrine of curability in French mental medicine between 1870 and 1940. Using medical documents, psychological tests and instruments, as well as images and film, I explore how the intersection of new technologies, specific medical problems, and novel social factors, contributed to a "temporal turn" in French psychiatry and applied psychology during the Third Republic.
---
Kaleb Adney

2018-2019 Fulbright Recipient
Fulbright Program: Research
UCLA Department: History
Country of Study: Greece and Turkey
Research Abroad
I am third-year PhD candidate in the History Department at UCLA focusing on Middle Eastern history. My research is centered on the political economy of the Ottoman tobacco industry during the nineteenth and early twentieth centuries. I primarily focus on the Ottoman province of Selânikand its historical connections to many of the port cities throughout the eastern Mediterranean. The transformation of tobacco from one of many locally produced and locally consumed crops to the most important cash crop exported from the Balkans laid the foundation for a number of important changes to local social relations. Merchants, peasants, and workers made tobacco a central component of the regional economy through shared legal and commercial practices and institutions. Herman's research therefore surveys changes to the social fabric of the Ottoman Empire with an eye towards the many enduring networks of capital and labor.
---