For entering masters or doctoral students who received the Big Bang Theory Scholars undergraduate scholarship at UCLA, and who wish to pursue graduate education in the STEM fields within the University of California system. Eligible students may receive up to $20,000 per year, for up to five years.
Eligibility
Eligibility & Requirements
1. Students must be admitted to a UC graduate program such as:
• Research-based masters or PhD in a STEM field
• Medical School (MD)
• Dental School (DDS or DMD)
• Master of Public Health (MPH)
2. Applicants must have participated and completed the Big Bang Theory undergraduate scholars program and received their qualifying degree from UCLA within two to five years* of applying to the Big Bang Theory Fellowship program.
3. Maximum of five years of funding from the Chuck Lorre Foundation, as administered by UCLA Division of Graduate Education. Eligibility for annual renewal will be based on the following:
• Student remains in good academic standing as defined by their specific degree program;
• Maintains "full-time" status or meets minimum unit enrollment as defined by degree program; and
• Remains within the University of California.
• Continuing students submit annual progress updates via the Office of Scholarships and Student Support Initiatives (SSI)
4. Any changes to a scholar's graduate program or focus need to be shared with the Office of Scholarships & Student Support Initiatives as soon as possible. Changes could impact scholar eligibility for this fellowship.
How to Apply
How to Apply
•  Deadline for first-year applicants is May 1. The Big Bang Theory Graduate Fellowship Application will be provided by, and must be submitted to the Office of Scholarships and Student Support Initiatives at UCLAScholarships@support.ucla.edu
•  Deadline for continuing graduate students' funding is May 1. All continuing scholars must submit annual progress updates.
FAQ
Frequently Asked Questions
1. I graduated from UCLA 1, 2, 5 years ago, can I still apply?
Students are welcome to apply for funding after a gap year, as long as they have notified the Office of Scholarships and Student Support Initiatives that they intend to take the gap year/s. Students with more than one gap year will be reviewed on a case-by-case basis.
2. My program is part-time. Am I still eligible for this fellowship?
You are eligible to apply for up to $20,000 in funding per year. Applications will be reviewed on a case-by-case basis.
3. I am waitlisted for my graduate program. Should I still apply and am I still eligible?
Yes, you should submit your application with the normal funding cycle for the academic year with a note that you are waitlisted. Notify SSI as soon as you are accepted from the waitlist or notified that you will not be added.
4. I have completed my master's degree as a Big Bang Theory Fellow and am now pursuing a PhD. Can I apply for this fellowship again?
Yes, you are eligible to apply for the fellowship.
Contact
Big Bang Theory Fellowship Contact
Dr. Tim Fosbury
Fellowships and Financial Services
1228 Murphy Hall
tfosbury@grad.ucla.edu

---
Meet the Big Bang Theory Fellows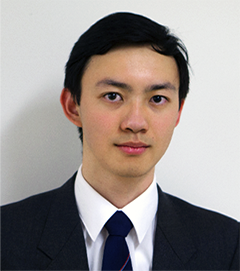 Christopher 
UCLA Electrical and Computer Engineering PhD Program
What has been the focus of your research for this academic year?
My research focus is in high frequency circuit design. I have worked on numerous projects this year in order to gain experience. Most of these circuits are related to biosensors. Through my work on one such project, I am a co-author on a paper that was accepted into a microwave circuit conference this year. I have also been involved in multiple chip tapeouts which I will be testing once they return later in the year.
How does your grad program tie into your career plans and dreams?
My graduate program provides a learning experience in circuit design that would be difficult to get in industry. It also allows me some freedom to pursue projects that I am interested in. After I graduate, I plan to go to industry and continue circuit design.
What have you found to be the most challenging and most rewarding part of your graduate education so far? Please also list any notable accomplishments and any pending publications.
The most challenging part of my graduate education so far is learning as much as I can so that I can hopefully start doing my own research soon. Currently, I am taking my MS coursework, so I am still learning a lot of the fundamental circuit blocks. Despite this, I have been involved in multiple different projects, which has allowed me to get some practical experience that will be valuable to my research. The most rewarding part of my graduate education is finishing a chip tapeout because it is the culmination of weeks of research and work. The process can also be quite stressful since once it is sent out, you won't know exactly how it will work until you test it months later, but it still always feels like an accomplishment. This year, I am a co-author on a paper in a microwave circuit conference.