Entering doctoral students who meet the diversity criteria below and are interested in a career in college or university teaching and research are encouraged to apply.
The diversity of the people of California has been the source of innovative ideas and creative accomplishments throughout the state's history into the present. Diversity – a defining feature of California's past, present, and future – refers to the variety of personal experiences, values, and worldviews that arise from differences of culture and circumstance. Such differences include race, ethnicity, gender, age, religion, language, abilities/disabilities, sexual orientation, gender identity, socioeconomic status, and geographic region, and more.

Regents Policy 4400: Policy on University of California Diversity Statement | Board of Regents
Minimum of four years of funding from the Graduate Division and awardee's home department

Year 1: Graduate Division $25,000 stipend + fees/tuition + non-resident supplemental tuition (if applicable)
Year 2: Department funding (at same level as highest Graduate Division stipend) via stipend, teaching assistant or graduate student researcher (GSR) position+ fees/tuition
Year 3: Department funding (at same level as highest Graduate Division stipend) via stipend, teaching assistant or GSR position+ fees/tuition
Year 4: Graduate Division $25,000 stipend + fees/tuition (Cota-Robles 2)

If awardee is in a professional degree program, the professional degree supplemental tuition is not provided by this fellowship.
Fellows may not work in the first term of the fellowship.
Master's, MD, DDS, or JD degrees not eligible
Eligibility

U.S. citizens, permanent residents, or undocumented students who qualify for nonresident supplemental tuition exemptions under AB 540

Apply

The deadline is the same as the deadline for your admissions application. Contact your prospective home department for any exceptions.
Review the Eugene Cota-Robles Application Instructions and complete the appropriate sections within the online admissions application, including the Personal Statement.
Say hello to some Cota-Robles Fellows

Christopher Luthers
Molecular Biology
Research Interests
I am interested in translational immunology. Specifically, I'm interested in both the investigation of dysfunctional immune systems in diseased states as well as the discovery of novel mechanisms whereby you can increase the capabilities of the immune system. Building off of this knowledge, we can design therapeutics that increase the body's ability to fight and combat diseases such as viral infections and cancer.
Brief Biography
Born in Texas, I lived in 3 states and two countries before settling down in Maryland at the age of 5 (military baby). After being raised in Maryland, I attended the University of Maryland where I received my B.S. in Microbiology with a minor in global poverty.
During my undergraduate career I had the opportunity to conduct summer research experiences at Vanderbilt University, and UC Berkeley, and a longer-term research experience at the University of Maryland; all of which were molecular genetics/cell biology focused. It was during my undergraduate research experiences that I fell in love with scientific research; the idea that virtually everything you discover is unknown to the rest of the world is extremely fascinating to me. Afterward, I worked as a research assistant/lab manager at the Uniformed Services University and during this time my decision to attend graduate school was solidified.
Outside of research, I was the president my University's UNICEF chapter and was heavily involved in community outreach efforts through various organizations at my University. Apart from school, I am an avid sports fan (Go Lakers), and love to play soccer and basketball in my free time.
If stranded on a deserted island with only one type of meal to eat every day, what would you want it to be?
If we can vary the type of pizza, then definitely pizza. If not, then you can't go wrong with shrimp fried rice.
If you did not pursue a graduate degree what would you have pursued?
Another major interest of mine is in public health and the efforts of non-profits to try to overcome health disparities of marginalized communities. If I wasn't pursuing my graduate degree, I likely would've found a way to join these efforts and help try to tackle these issues.
---
Lizvette Villafaña
Physics and Astronomy
Research Interests
I am currently modeling the gas that surrounds supermassive black holes (found at the center of active galaxies). In addition to learning more about the structure and dynamics of the surrounding gas, modeling provides an estimate of the central black hole mass. These estimates can then be used to investigate the black hole mass calibration techniques that are commonly used today. Along with black holes, I am interested in other cool wonders of our universe, such as dark matter, dark energy, and the hubble constant (expansion rate of our universe).
Brief Biography
Born and raised in a small agricultural town in Northern Central California, I moved to Los Angeles in 2013 when I started my undergraduate studies at UCLA. I hadn't been exposed to physics prior to entering, but was drawn to the field of astrophysics for it's attempt to try to understand the world around us on a grander scale. While at UCLA, I enjoyed helping students and was involved with a couple of mentoring groups on campus and was also a Resident Assistant and New Student Advisor. I graduated in 2018 and started my masters in aerospace engineering at USC that upcoming Fall semester. While at USC, I primarily worked on integrating nanosatellite control systems and actively participated in outreach activities through the USC Society of Hispanic Professional Engineers (SHPE) chapter. Although I found a place within the aerospace community, I greatly missed the study of astronomy and decided to apply to UCLA's graduate program. Today, with help from the Eugene V. Cota Robles Fellowship, I am incredibly grateful to have the means to follow my dreams, especially as a first generation Latina in STEM who once felt a Ph.D. program in Astrophysics was an unobtainable dream.
If stranded on a deserted island with only one type of meal to eat every day, what would you want it to be?
I would probably pick enchiladas! They are hands down my favorite Mexican dish and could provide some variety, since I'm not that good with leftovers. (gotta think ahead)
If you did not pursue a graduate degree what would you have pursued?
I most likely would have worked on satellite control systems for an aerospace company.
---
Shantée N. Ayala Rosario
Molecular, Cellular and Integrative Physiology
Research Interests
I have always found the brain fascinating and seek to understand how traumatic memories are embedded in the brain. Especially in cases of Post-Traumatic Stress Disorder (PTSD).
Brief Biography
I am a boricua woman, born and raised in Puerto Rico. My Scientific journey started like most, out of curiosity for how the "natural world" works. However, my passion for Neuroscience came during my time as a "poolee" in the Marine Corps delayed entry program. I found that there were a lot of misconceptions related to mental health and a gap in knowledge. Additionally, as the daughter of a Vietnam Army Infantry man, I found that with Science, I could help others understand their minds and find ways to increase quality of life. Hence, I prioritized my education and decided to pursue a Ph.D. I am also the founder of a blog called "Science, Failure, and Soul" where I can share other's stories and practice my love for mentorship.
If stranded on a deserted island with only one type of meal to eat every day, what would you want it to be?
As I am now far from home, I have appreciated the power of rice, beans, and "pasteles."
If you did not pursue a graduate degree what would you have pursued?
I would have pursued my love for dance and music.
---
Lucha Martínez de Luna
Archaeology
Research Interests
I specialize in Mesoamerican archaeology with interests in interregional trade networks, merchants, ritual feasting, sociopolitical organization in complex societies, and the Zoque civilization.  I also conduct research of the Hispano/Chicano people and arts in the Southwest and American West.
Brief Biography
I have worked on numerous archaeological projects in the Southwest, American West, and central and southern Mexico.  I worked for the National Institute of Anthropology and History (INAH) conducting the excavation and restoration of a palace in the Chichen Viejo sector of Chichen Itza (Mexico).  I served as associate curator of Latino Heritage at History Colorado, curatorial assistant and research associate at the Denver Museum of Nature and Science, Museo de las Americas, the Regional Museum of Guadalajara, and division director for the State Council of Culture and Arts in Chiapas, Mexico.  In Chiapas, with the support of INAH and the Universidad de las Ciencias y Artes de Chiapas(UNICACH), I direct the La Providencia Archaeological Project to record the remnants of a prehistoric-historic trade route in the western portion of the state.   I am a visiting professor at UNICACH where I direct an archaeological field school at the Zoque site of O'na Tök, a preclassic to postclassic regional center.
In Colorado, I actively advocate for BIPOC inclusion in scientific and cultural facilities and I am director of the Chicano/a Murals of Colorado Project, a grass roots organization that advocates to preserve the visual heritage of Chicana/o public art in Colorado.
If stranded on a deserted island with only one type of meal to eat every day, what would you want it to be?
I would have hatch green chile, beans with chicos (dried maize kernels), corn with squash, sopapillas and flour tortillas because this is what I grew up eating.  My family is from the Northern New Mexico/Southern Colorado cultural region and our cuisine is a fusion of Pueblo American Indian and Hispano Spanish influence.  Living abroad for long periods of time, I have experienced life without my favorite meal and find I am incomplete without it.
If you did not pursue a graduate degree what would you have pursued?
Before I started the doctoral program at UCLA, I was working as an archaeologist and in the museum field and have never considered doing anything else.  I am honored to be given this opportunity to complete this life-long goal and will continue to serve as both a mentor and advocate for BIPOC inclusion in museums and in the field of archaeology.
---
Stephanie Taylor
Materials and Science Engineering
Research Interests
My specialization is leveraging theory and modeling to explore the frontiers of materials science that have been enabled by the computational gains of the past decade. I find this to be an exciting world to occupy, due to its highly interdisciplinary nature. My current project is exploring data-driven techniques for modeling high entropy alloy (HEA) systems.
Brief Biography
I have a B.S. in Chemistry & Biochemistry from the College of Creative Studies (CCS) at UC Santa Barbara. CCS really goes out of its way to promote early research involvement for its students. The support and flexibility I received through that program enabled me to explore my interests in depth. I worked in four research groups at UCSB (in materials science, chemical engineering, computational biochemistry, and theoretical chemistry), spent a summer in the Energy Systems division at Argonne National Laboratory, participated in the Physics/MRSEC REU at the University of Chicago, spent two years leading the UCSB Chemistry Club, and even got to teach my own student-led colloquium class: "Advanced Study of Chemical Literature". I was also able to take a variety of classes outside of the standard chemistry major curriculum – classes in math, statistics, programming.  By the time I reached graduation, I had developed a specialization in computational chemistry & modeling methods. The techniques that are employed in this specialization have a great deal of applicability to materials science. It seemed to me that materials modeling was the natural next step along this path.
After graduation, I spent a year in industry, working as a Materials and Processes (M&P) engineer in the Space and Airborne Systems division of Raytheon.  My group contained quite a few subject matter experts, and I enjoyed trying to extract kernels of hard-earned knowledge from them. I completed my graduate school applications during this "gap year". UCLA offered me a home, and the rest is history! Materials science is such an interdisciplinary world. I am happy to have been granted the rare opportunity to spend the next chapter of my life dwelling within it.
If stranded on a deserted island with only one type of meal to eat every day, what would you want it to be?
Biryani. The good biryani. Quality biryani would turn that desert island into a paradise island getaway.
If you did not pursue a graduate degree what would you have pursued?
I have always enjoyed being around teachers, readers, and researchers. Graduate school is the natural environment to find such types. However, if I were not able to attend graduate school, I would continue my search for communities where curiosity and learning are valued and try to establish myself there. (And I would definitely pursue as many library cards as possible!)
---
Jordan Parker
Health Psychology
Research Interests
My research focuses on the intersections between racial identity and health, with a specific interest in health trajectories within the Black community and the affect of colorism and discrimination on health outcomes. My current work focuses on the relationship between racial identity, body image, and eating behaviors as they relate to disordered eating and obesity in Black women. Importantly, my interest in race is informed by critical race theory, and the multidimensionality of racial identity beyond binary categories.
Brief Biography
I grew up in Houston, Texas and spent most of my adolescence as a dancer. In college, I was interested in psychology, race and neuroscience and spent a good deal of time in clinical and biomedical engineering research. I am passionate about community service and advocacy and accordingly, I have volunteered across the Bay Area as a tutor, research assistant, translator, and with a dance therapy program for people with Parkinson's disease. I  graduated Phi Beta Kappa from Stanford University in 2018 with a major in Psychology and dual minors in Spanish and African and African-American Studies. Outside of school, I love to experiment with new vegetarian recipes, take my mini daschund Penny on long walks, and re-watch Grey's Anatomy for the millionth time.
If stranded on a deserted island with only one type of meal to eat every day, what would you want it to be?
Tex-Mex food and flavors are my favorite so I'd have to say tacos! With fresh salsa, guacamole, chile con queso, and jalapeño ranch.
If you did not pursue a graduate degree what would you have pursued?
Probably a medical degree.
---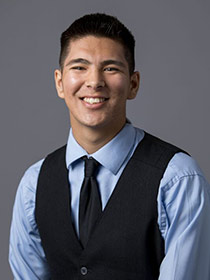 Andrew Ramirez
Bioengineering
Research Interests
My research interests include biomaterials and tissue engineering. I am specifically looking into shape-changing photodegradable hydrogels for tissue engineering modeling and synthetic blood vessels.
Brief Biography
Born in Fontana, CA, I graduated from UC Davis with a Bachelor's of Science in Chemical Engineering. Being a low-income child of immigrants and a first-generation college student, I was involved in enhancement programs including California Alliance for Minority Participation (CAMP), Ronald E. McNair Program, and Leadership for Engineering Advancement, Diversity and Retention (LEADR). During my time at UC Davis, I participated in multiple research projects including angiogenic therapeutics for the treatment of diabetic foot ulcers and a method comparison of carbon monoxide chemisorption on supported platinum catalysts.
If stranded on a deserted island with only one type of meal to eat every day, what would you want it to be?
Definitely chile relleno with beans and rice.
If you did not pursue a graduate degree what would you have pursued?
If I did not pursue a graduate degree, I believe I would have been interested in working in the biopharmaceutical industry or the wind industry.
---
Saul Ivan Quintero
Psychology
Research Interests
I am interested in all things multisensory perception, processing, and integration. More specifically, I am interested in the connection between cross-modal sensory interactions in guiding higher order cognitive processes such as embodiment, spatial and temporal memory, or multisensory perceptual pleasure. Although my current work is generally focused on behavioral and cognitive measures, I am working towards expanding further into multilevel computational modelling and systems neuroscience research. I am excited to continue participating in explicitly cross-disciplinary efforts towards understanding the human mind.
Brief Biography
I was originally born in Guadalajara, Mexico. However, throughout my life, I have constantly moved and resettled from home to home due to a variety of circumstances that lended themselves to necessary change. What at first felt like a perpetual uprooting led to me being exposed to a richly diverse array of communities all across Mexico and the United States. I have thereby developed a profound appreciation for how diversity in background, culture, or identity often begets a unique splendor in the generation of new perspectives. I am fascinated by the tremendous variety in how individuals come to perceive the world.
I also have a background in experimental mixed media arts working with installation and sculpture with my projects largely centered on spotlighting the process of constructing multisensory percepts and the relationship between those percepts and our intersubjective identities. My exploration of media thereby has largely influenced my interest in the growing research areas of neuroaesthetics, perceptual pleasure, multisensory aesthetic chills, etc. I have furthermore acquired an interest in exploring sensory systems through a semiotic lense by spotlighting aesthetic theories of communication and expression.
Provided by interests in extolling diversity, I have been and will continue to participate in academic initiatives centered on empowering and supporting marginalized communities in whatever goals they may have. I am especially interested in continuing to support the Queer and Latine communities in any way that I can.
If stranded on a deserted island with only one type of meal to eat every day, what would you want it to be?
It would absolutely have to be an endless gargantuan mountainous pile of lemon squares.
If you did not pursue a graduate degree what would you have pursued?
My greatest passion is to be involved in research. Thus, I suppose I would have been open to any position that involves research in some way. I would also have been interested in continuing my mixed media art career or becoming involved in clinical psychology practice such as art therapy.
---
Joseph Nwadiuko
Health Policy and Management
Research Interests
I am interested in the intersection of migration policy and international health systems across two primary domains: the health access for undocumented immigrants (particularly in the United States) and return migration and remote contributions of physician migrants (around the world).
Brief Biography
I was born in Ohio to Nigerian immigrants, grew up mostly in rural/suburban North Carolina although I relocated frequently up and down the East Coast. I have always been interested in international studies and caught the "medical bug" in high school. Went to Amherst College where I majored in History, followed by my MD at the University of Pittsburgh and MPH at Johns Hopkins. I completed internal medicine residency at Johns Hopkins and my general internal medicine fellowship at the University of Pennsylvania. I came to UCLA for further research training in health economics and policy to pursue more ambitious work around immigration. Along the way I have been a consultant for the World Bank and have spoken at the US Department of State and USAID.
If stranded on a deserted island with only one type of meal to eat every day, what would you want it to be?
Definitely would be the (Nigerian dish) fufu and okra soup with beef and other accoutrements. Maybe with some fried plantains for dessert?
If you did not pursue a graduate degree what would you have pursued?
Well my real dream would be to have a food and travel TV show. (Who wouldn't want that?)
---
Sophia Lencioni
Comparative Literature
Research Interests
My research in comparative literature is centered around my languages: English, Spanish, German, French, and Portuguese. I also intend on beginning Turkish soon. I focus on the literary history of metamorphoses (human to plants, machines, and non-human animals), boundaries (between species, countries, and languages), and the movement across these borders (via metamorphoses, migration, code-mixing).
My other interests include: 19th Century German Literature and its relationship to the uncanny, German expressionist film and art, and female figures in antiquity.
Brief Biography
I was born in Mexico City to a Mexican mother and an American father and grew up in a bilingual, bicultural household. I started private German lessons at the age of 8 and then French in school at the age of 11.
At the age of 19, I left Mexico City and moved to the U.S. for college. I completed my undergraduate studies at Northwestern University, where I double majored in Comparative Literary Studies and German. I was awarded Honors for my undergraduate thesis: "Transforming and Flinching Away in Julio Cortázar's "Axolotl" and Franz Kafka's Die Verwandlung". I was also awarded Highest Achievement in Undergraduate Research for this thesis.
Outside of academia, I enjoy embroidering. I especially like to embroider Tenangos, a traditional type of embroidery from my home state of Hidalgo, Mexico.
If stranded on a deserted island with only one type of meal to eat every day, what would you want it to be?
The thing I missed most while living in Chicago was the variety of fruit that I was accustomed to having in Mexico City. I would probably fruit for the rest of my life: mangos, guavas, papaya with lime, cherries and tangerines. I would, of course, have to learn to deal with the unavoidable malnutrition that would accompany a diet entirely comprised of fruit.
If you did not pursue a graduate degree what would you have pursued?
I probably would have pursued a career that allowed me to use my languages. Before beginning my doctoral studies, I did some freelance translation work for the Salvadorian newspaper El Faro and am still very much interested in translation studies, theory, and practice. It would thus have been natural for me to continue working in translation. I have also worked in the Culture section of Milenio Diario in Mexico City, so I would have been glad to pursue a career in cultural journalism as well.
---