Entering doctoral students who meet the diversity criteria below and are interested in a career in college or university teaching and research are encouraged to apply.
The diversity of the people of California has been the source of innovative ideas and creative accomplishments throughout the state's history into the present. Diversity – a defining feature of California's past, present, and future – refers to the variety of personal experiences, values, and worldviews that arise from differences of culture and circumstance. Such differences include race, ethnicity, gender, age, religion, language, abilities/disabilities, sexual orientation, gender identity, socioeconomic status, and geographic region, and more.Regents Policy 4400: Policy on University of California Diversity Statement | Board of Regents
---
Eligibility
Eligibility
U.S. citizens, permanent residents, or undocumented students who qualify for nonresident supplemental tuition exemptions under AB 540
Master's, MD, DDS, or JD degrees not eligible
Fellows may not work in the first term of the fellowship
Funding Years
Funding Years
A Minimum of four years of funding from the Division of Graduate Education and awardee's home department is required:
Year 1: Division of Graduate Education $25,000 stipend + fees/tuition + non-resident supplemental tuition (if applicable)
Year 2: Department funding (at same level as highest Division of Graduate Education stipend) via stipend, teaching assistant or graduate student researcher (GSR) position+ fees/tuition
Year 3: Department funding (at same level as highest Division of Graduate Education stipend) via stipend, teaching assistant or GSR position+ fees/tuition
Year 4: Division of Graduate Education $25,000 stipend + fees/tuition (Cota-Robles 2)
If awardee is in a professional degree program, the professional degree supplemental tuition is not provided by this fellowship.
Fellows may not work in the first term of the fellowship.
Apply
How to Apply
The deadline is the same as the deadline for your admissions application. Contact your prospective home department for any exceptions.
Review the Eugene Cota-Robles Application Instructions and complete the appropriate sections within the online admissions application, including the Personal Statement
---
Say hello to some Cota-Robles Fellows
Austin M. Betancourt
Ecology and Evolutionary Biology
Research Interests
I am generally interested in combining conservation and genomics, specifically to study how Dungeness crab populations, a key fishery target, have evolved and adapted to varied environmental conditions. The goal is to understand how these valuable crabs might respond to climate change, inform fisheries management, and involve communities who are directly impacted. For me, it is critical not only to do research that is essential for the health of our oceans, but also to advocate for, and involve, those who sustain their livelihood from these marine organisms.
Brief Biography
Born and raised in the San Gabriel valley, I'm a proud first-generation, Latina in STEM. I started from the community colleges, and eventually completed my undergrad at San Jose State in 2020. While enrolled, I worked three jobs to put myself through school. I persisted and became the first in my family to graduate from college and continued on to a Masters degree at UCLA. My journey inspired me to pursue more—to get a Ph.D. and become a research scientist who advances my field and inspires the next generation of diverse scientists.
While navigating my undergrad years was difficult, I had the opportunity to be part of communities like EOP/EOPS, SACNAS, LSAMP, and MARC-U-STAR, all programs with the goals of guiding and mentoring 1st gen, low-income, historically marginalized students. Eventually, I became part of the Diversity Project (TDP) at UCLA, which ultimately shaped my path toward marine science. Participating in the program allowed me to merge my interests of marine science and doing science that impacts communities. My graduate journey at UCLA has been focused on marine conservation genomics and involving underrepresented students, with an aim towards community college students, with research experiences.
With the help of the Eugene V. Cota Robles Fellowship and the NSF-GRFP, I am able to follow my dreams of doing science and mentoring here at UCLA, something that sounded unattainable when I first began school.
If stranded on a deserted island with only one type of meal to eat every day, what would you want it to be?
Rice and beans in any form.
If you did not pursue a graduate degree what would you have pursued?
If I didn't pursue a graduate degree, I would want to become a NatGeo photographer.
---
Cameron Brown
Geochemistry
Research Interests
Geothermal power is strongly considered as an essential component of the world's future in green energy. This renewable energy resource forms as the result of heated water that has been trapped in permeable and porous rocks under a layer of impermeable rocks, with wells drilled into strata to circulate the heated water and steam that they contain and convert them into energy. In geothermal systems, productivity is controlled by the composition and permeability of their host rock, and the strength of their heat source. Despite multiple current methods for harnessing geothermal energy, it is still a largely untapped and insufficiently researched resource, with knowledge gaps relating to their total energy output and lifetime. My research is focused on developing an approach for constraining these key aspects of geothermal systems through a novel combination of Uranium-Thorium (U-Th) and Uranium-Lead (U-Pb) dating, carbonated clumped isotope thermometry, and numerical modeling to provide insights into the evolution of geothermal systems over time.
Brief Biography
Growing up in Acworth, Georgia, my love for science as an adolescent developed from watching my parents working in healthcare, and participating in STEM events such as Science Olympiad. During my freshman year of high school, my admission into Fort Valley State University's Mathematics, Science, and Engineering Academy (M-SEA), a program that served to introduce young minorities and women to various fields within the energy industry, played a pivotal part in my decision to pursue geoscience as a career field. My participation in the Academy provided the opportunity to become fully immersed in all the different aspects of geoscience and the numerous career fields. Overtime, my interests became focused on unfolding societal issues of sustainability and energy resources.
In the years following M-SEA, I was awarded a scholarship to attend an HBCU – Fort Valley State University – through their Cooperative Developmental Energy Program (CDEP). This is a dual-degree program that upholds the same values as its pre-collegiate program M-SEA and also provides its scholars the resources needed to become exemplary leaders in the energy industry. I earned my first Bachelor's degree of Science in Mathematics at Fort Valley State University where I graduated Magna Cum Laude, and completed my second Bachelor's degree of  Science in Geoscience with a Minor in Geophysics at Pennsylvania State University.
In addition to my research, I have also used my experiences in internships and fellowships with DOE's Mickey Leland Energy Fellowship program, NSF's Incorporated Research Institutions in Seismology, and UCLA's Center for Diverse Leadership in Science fellowship program to alleviate racial disparities faced by underrepresented communities in STEM through programs such as the National Association of Black Geoscientists, the Louis Stokes Alliance for Minority Participation, and the National Technical association.
If stranded on a deserted island with only one type of meal to eat every day, what would you want it to be?
Ox-tail with steamed cabbage, rice and peas, and macaroni and cheese! My uncle owns a Jamaican restaurant in Orlando, Florida, called Oley's, and I always look forward to eating his food when I visit.
If you did not pursue a graduate degree what would you have pursued?
I love geoscience due to it providing me the ability to travel around the world, and I saw graduate school as an opportunity that could support this interest. If I were to follow an alternate career path, I would have pursued a position  in the energy industry or with a national laboratory that travels frequently.
---
Rane Prak
Ethnomusicology
Research Interests
The interdisciplinary Ethnomusicology Ph.D. program will enrich my graduate research in exploring how disparate modes of Khmer storytelling traditions, including songs, retain their powerful effect as embodied ways of sharing and reshaping cultural identity. I plan to conduct fieldwork in the Cambodian diaspora communities at Long Beach and Cambodia by observing how Khmer artists create new traditions, leading to the hybridization of the mainland and diaspora culture.
One source from the UCLA's ethnomusicology archives that inspires my research is Sophiline Cheam Shapiro teaching Cambodian classical dance to Cambodian American students  In the future, I intend to explore how contemporary artists, such as Shapiro have used traditional art forms to create works in Cambodia and the diasporas that generate conversations concerning identity and healing in the post-genocide era. I want to explore how traditions are powerful tools to process the past and navigate contemporary society. I hope to observe how contemporary artists have used ancient art forms in cultural productions to process trauma, heal, and create beauty that inspire people across generations.
Brief Biography
When my family and I immigrated to the United States, we moved to a small town called Woodville, Texas. My mom and aunt operated a donut shop seven days a week from 1 am to 5 pm, sometimes later. Before my mom could drive, my family and I rarely slept in our apartment. Instead, we slept on the floor in the back of the shop because walking in the dark while carrying a toddler was a risk for two women of color. Since I come from a low-income family, my passion is to help students overcome socio-economical barriers and achieve their dreams. During my undergraduate experience at the University of Texas at Austin, I was a Teaching Assistant for the Freshman Research Initiative: Scientific Inquiry Across the Disciplines program. In this program, I bridged two academic disciplines by guiding first-generation STEM students from underrepresented communities within higher education in their humanities research. I want to continue fostering inclusivity and mentorship among colleagues from marginalized backgrounds in academia.
During the many years of uncertainty regarding my immigration status, I found solace through the performing arts. I learned Khmer classical dance and folk songs from my aunt, a professional singer. I played the clarinet, oboe, and saxophone in a band throughout my middle and high school years. My band, consisting of students from diverse cultural backgrounds, bonded because of our shared love for music. I remember singing Khmer folk songs, playing musical instruments, and reading books as my mom and aunt worked alone in the donut shop. Engaging with various modes of performing arts and storytelling helped me to navigate with my immigrant identity.
As an undergraduate, I was part of the Ronald E. McNair Scholars Program, which supports first-generation students in applying for graduate school. I have written an article for their research institute about Khmer stories from the oral tradition catering to each generation, which I expanded upon in my undergraduate honors thesis. My undergraduate honors thesis explored how Khmer artists tell stories through songs in the Cambodian Original Music Movement (COMM). The COMM refers to a new generation of Khmer musicians that signifies a vibrant cultural phenomenon in the post-Khmer Rouge era. My thesis drew on Stuart Hall's theory regarding flexible identities to provide insights into contemporary Cambodian history through the lens of cultural production. I used Jan Nederveen Pieterse's hybridization theory to explore how blended traditional and contemporary music bridge cultural producers and consumers of different generations. One song, "Time to Rise," combines the Khmer traditional chapei genre, performed by folk musician, Kong Nay, with contemporary rap performed by hip-hop artist, VannDa. I also refer to Vijay Prashad's alternative understanding of the nation-state to explore how collaborations between artists of different cultural identities continue decolonial movements and promote empowering narratives.
As an undergraduate, I have taken the Graduate Education and Training in Southeast Asian Studies (GETSEA) course, the Performing Arts in Southeast Asian History and Society, where I learned the power of performing arts to bridge different communities. As a first-generation student, I am motivated to research performing arts at UCLA and set the standard for future generations of my family.
If stranded on a deserted island with only one type of meal to eat every day, what would you want it to be?
I would eat stir fry with rice, fried eggs, and ramen if I was on a deserted island. Stir fry is a versatile dish made with whichever ingredients are available. My comfort food is definitely ramen. I believe you can create various types of ramen according to the food available at the deserted island ranging from seafood to vegetarian ramen. I love spicy food, so as long as the food has plenty of spices, I feel relieved of stress.
If you did not pursue a graduate degree what would you have pursued?
If I did not pursue a graduate degree, I would have pursued another job that let me to embrace my intersecting passion in learning, music, culture, and artistic creation. For instance, I can learn and perform Khmer classical and contemporary dance with a company in either the Cambodian Diaspora community in Long Beach or in Cambodia. I can also learn to play instruments in Cambodian American ensembles directly from the community. With their permission, I would share my own personal journey as a student and artist through the form of a vlog or social media posts making knowledge accessible to the public..
---
Nat Finnegan
Anthropology
Research Interests
I am interested in using genomics as a tool to understand the evolutionary history and behavior of neotropical primates. Species I am interested in include capuchins, squirrel monkeys, and titi monkeys.
Brief Biography
I grew up in the SF Bay Area town of Danville and moved to Davis in 2017 to pursue my undergraduate education in evolution and biology. As a student at UC Davis, I fell in love with monkeys and their geologic past. I spent two years at the California National Primate Research Center working with the Titi monkey colony and worked remotely at Arizona State University through an NSF REU where I developed my interests in primate genomics. I graduated in 2022 with a B.S. in Anthropology, a B.S. in BioPsychology, and a minor in Geology. Thanks to the Eugene V. Cota Robles Fellowship I am proud to be a UCLA Bruin where I can continue my research with the monkeys of today and of the past!
If stranded on a deserted island with only one type of meal to eat every day, what would you want it to be?
Without a doubt my answer would have to be sandwiches! There are so many different ways to switch up a sandwich (type of bread? filling? toppings? sauce?) that I think it would take me a long time before I became sick of them.
If you did not pursue a graduate degree what would you have pursued?
I think I would want to work as a geologist! I love rocks and learning about their formation, and I think it's totally rad that you can use stratification in sediments to help understand the environments of the past. It's like a fun puzzle that has the benefit of taking you on adventures across the world.
---
Sonya A. Ashikyan
Cognitive Neuroscience
Research Interests
I am interested in consciousness and memory and higher cognitive processes in humans such as decision-making, reasoning, and metacognition. I utilize neuro-modulation and neuroimaging techniques which include Magnetic Resonance Imaging (MRI), Transcranial Magnetic Stimulation (TMS), and Transcranial Direct Current Stimulation (tDCS). I work with both human and animal models, particularly with rodents. Major structural and functional findings of the brain will advance the pharmaceutical industry through the creation of more effective medications, lead to more accurate diagnoses of physical and mental illnesses, and aid research which aims to cure brain related diseases.
Brief Biography
I was born in Yerevan, Armenia, and raised in a small village named Haytagh in Etchmiadzin. My family immigrated to the United States when I was about 7-years-old. My interest in neuroscience began when I was in 11th grade and joined the University of Southern California's (USC) Neuroimaging and Informatics Institute as a research assistant working on autism research. I later attended community college where I studied Sociology for one year and transferred to UCLA to complete my bachelor's degree in Cognitive Science. During my time at UCLA, I worked on various research projects in both behavioral and cognitive neuroscience and worked with animal and human models. I also had the chance to present at an international conference in Chile and led multiple research teams as a lead undergraduate researcher and research project manager.
Throughout my studies, I have devoted a great deal of time to giving back to my community and helping those in need through humanitarian work. I have sent aid to those with low socioeconomic statuses as the Armenian Students' Association Philanthropy Chair and I have educated our community about the hardships of minority groups by co-founding the Genocide Relief, Awareness, and Community Education (GRACE) organization at UCLA to prevent attrocities, like the Armenian Genocide, from happening to other groups of people. I will be continuing my studies at the Psychology Department's Cognitive Neuroscience Ph.D. Program where I plan to also continue my humanitarian work. Additionally, I am extremely thankful for being awarded the Eugene V. Cota-Robles Fellowship which will support me throughout my graduate studies. I am committed to increasing diversity within the scientific community both through my role as a graduate student and through community organizations.
If stranded on a deserted island with only one type of meal to eat every day, what would you want it to be?
I would eat pasta every day because there are just so many different types of pasta out there.
If you did not pursue a graduate degree what would you have pursued?
I would have definitely pursued a career in neuroscience consulting or done clinical research focusing on traumatic brain injuries. Both of these paths would allow me to make contributions to our understanding of the brain.
---
Jordan Parker
Health Psychology
Research Interests
My research focuses on the intersections between racial identity and health, with a specific interest in health trajectories within the Black community and the affect of colorism and discrimination on health outcomes. My current work focuses on the relationship between racial identity, body image, and eating behaviors as they relate to disordered eating and obesity in Black women. Importantly, my interest in race is informed by critical race theory, and the multidimensionality of racial identity beyond binary categories.
Brief Biography
I grew up in Houston, Texas and spent most of my adolescence as a dancer. In college, I was interested in psychology, race and neuroscience and spent a good deal of time in clinical and biomedical engineering research. I am passionate about community service and advocacy and accordingly, I have volunteered across the Bay Area as a tutor, research assistant, translator, and with a dance therapy program for people with Parkinson's disease. I  graduated Phi Beta Kappa from Stanford University in 2018 with a major in Psychology and dual minors in Spanish and African and African-American Studies. Outside of school, I love to experiment with new vegetarian recipes, take my mini daschund Penny on long walks, and re-watch Grey's Anatomy for the millionth time.
If stranded on a deserted island with only one type of meal to eat every day, what would you want it to be?
Tex-Mex food and flavors are my favorite so I'd have to say tacos! With fresh salsa, guacamole, chile con queso, and jalapeño ranch.
If you did not pursue a graduate degree what would you have pursued?
Probably a medical degree.
---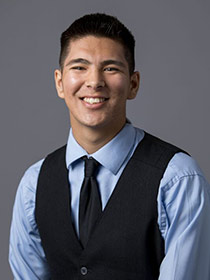 Andrew Ramirez
Bioengineering
Research Interests
My research interests include biomaterials and tissue engineering. I am specifically looking into shape-changing photodegradable hydrogels for tissue engineering modeling and synthetic blood vessels.
Brief Biography
Born in Fontana, CA, I graduated from UC Davis with a Bachelor's of Science in Chemical Engineering. Being a low-income child of immigrants and a first-generation college student, I was involved in enhancement programs including California Alliance for Minority Participation (CAMP), Ronald E. McNair Program, and Leadership for Engineering Advancement, Diversity and Retention (LEADR). During my time at UC Davis, I participated in multiple research projects including angiogenic therapeutics for the treatment of diabetic foot ulcers and a method comparison of carbon monoxide chemisorption on supported platinum catalysts.
If stranded on a deserted island with only one type of meal to eat every day, what would you want it to be?
Definitely chile relleno with beans and rice.
If you did not pursue a graduate degree what would you have pursued?
If I did not pursue a graduate degree, I believe I would have been interested in working in the biopharmaceutical industry or the wind industry.
---
Saul Ivan Quintero
Psychology
Research Interests
I am interested in all things multisensory perception, processing, and integration. More specifically, I am interested in the connection between cross-modal sensory interactions in guiding higher order cognitive processes such as embodiment, spatial and temporal memory, or multisensory perceptual pleasure. Although my current work is generally focused on behavioral and cognitive measures, I am working towards expanding further into multilevel computational modelling and systems neuroscience research. I am excited to continue participating in explicitly cross-disciplinary efforts towards understanding the human mind.
Brief Biography
I was originally born in Guadalajara, Mexico. However, throughout my life, I have constantly moved and resettled from home to home due to a variety of circumstances that lended themselves to necessary change. What at first felt like a perpetual uprooting led to me being exposed to a richly diverse array of communities all across Mexico and the United States. I have thereby developed a profound appreciation for how diversity in background, culture, or identity often begets a unique splendor in the generation of new perspectives. I am fascinated by the tremendous variety in how individuals come to perceive the world.
I also have a background in experimental mixed media arts working with installation and sculpture with my projects largely centered on spotlighting the process of constructing multisensory percepts and the relationship between those percepts and our intersubjective identities. My exploration of media thereby has largely influenced my interest in the growing research areas of neuroaesthetics, perceptual pleasure, multisensory aesthetic chills, etc. I have furthermore acquired an interest in exploring sensory systems through a semiotic lense by spotlighting aesthetic theories of communication and expression.
Provided by interests in extolling diversity, I have been and will continue to participate in academic initiatives centered on empowering and supporting marginalized communities in whatever goals they may have. I am especially interested in continuing to support the Queer and Latine communities in any way that I can.
If stranded on a deserted island with only one type of meal to eat every day, what would you want it to be?
It would absolutely have to be an endless gargantuan mountainous pile of lemon squares.
If you did not pursue a graduate degree what would you have pursued?
My greatest passion is to be involved in research. Thus, I suppose I would have been open to any position that involves research in some way. I would also have been interested in continuing my mixed media art career or becoming involved in clinical psychology practice such as art therapy.
---
Joseph Nwadiuko
Health Policy and Management
Research Interests
I am interested in the intersection of migration policy and international health systems across two primary domains: the health access for undocumented immigrants (particularly in the United States) and return migration and remote contributions of physician migrants (around the world).
Brief Biography
I was born in Ohio to Nigerian immigrants, grew up mostly in rural/suburban North Carolina although I relocated frequently up and down the East Coast. I have always been interested in international studies and caught the "medical bug" in high school. Went to Amherst College where I majored in History, followed by my MD at the University of Pittsburgh and MPH at Johns Hopkins. I completed internal medicine residency at Johns Hopkins and my general internal medicine fellowship at the University of Pennsylvania. I came to UCLA for further research training in health economics and policy to pursue more ambitious work around immigration. Along the way I have been a consultant for the World Bank and have spoken at the US Department of State and USAID.
If stranded on a deserted island with only one type of meal to eat every day, what would you want it to be?
Definitely would be the (Nigerian dish) fufu and okra soup with beef and other accoutrements. Maybe with some fried plantains for dessert?
If you did not pursue a graduate degree what would you have pursued?
Well my real dream would be to have a food and travel TV show. (Who wouldn't want that?)
---
Sophia Lencioni
Comparative Literature
Research Interests
My research in comparative literature is centered around my languages: English, Spanish, German, French, and Portuguese. I also intend on beginning Turkish soon. I focus on the literary history of metamorphoses (human to plants, machines, and non-human animals), boundaries (between species, countries, and languages), and the movement across these borders (via metamorphoses, migration, code-mixing).
My other interests include: 19th Century German Literature and its relationship to the uncanny, German expressionist film and art, and female figures in antiquity.
Brief Biography
I was born in Mexico City to a Mexican mother and an American father and grew up in a bilingual, bicultural household. I started private German lessons at the age of 8 and then French in school at the age of 11.
At the age of 19, I left Mexico City and moved to the U.S. for college. I completed my undergraduate studies at Northwestern University, where I double majored in Comparative Literary Studies and German. I was awarded Honors for my undergraduate thesis: "Transforming and Flinching Away in Julio Cortázar's "Axolotl" and Franz Kafka's Die Verwandlung". I was also awarded Highest Achievement in Undergraduate Research for this thesis.
Outside of academia, I enjoy embroidering. I especially like to embroider Tenangos, a traditional type of embroidery from my home state of Hidalgo, Mexico.
If stranded on a deserted island with only one type of meal to eat every day, what would you want it to be?
The thing I missed most while living in Chicago was the variety of fruit that I was accustomed to having in Mexico City. I would probably fruit for the rest of my life: mangos, guavas, papaya with lime, cherries and tangerines. I would, of course, have to learn to deal with the unavoidable malnutrition that would accompany a diet entirely comprised of fruit.
If you did not pursue a graduate degree what would you have pursued?
I probably would have pursued a career that allowed me to use my languages. Before beginning my doctoral studies, I did some freelance translation work for the Salvadorian newspaper El Faro and am still very much interested in translation studies, theory, and practice. It would thus have been natural for me to continue working in translation. I have also worked in the Culture section of Milenio Diario in Mexico City, so I would have been glad to pursue a career in cultural journalism as well.
---