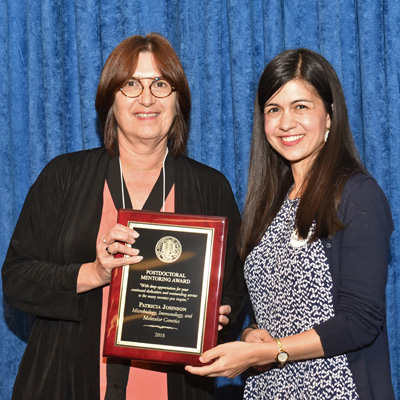 "Great mentors are inspiring, instill confidence, and help you see the bigger picture. Great mentors do not aspire to create copies of themselves, instead they recognize the value, strength, and aspiration of each individual and actively help them achieve their personal career goals. Great mentors launch you on the path of becoming an established independent researcher and future collaborator."
Mentoring  graduate students and postdoctoral scholars is not part of the curriculum in graduate schools. It's a role that is passed on from one generation of faculty to the next.
In 2012, the Society of Postdoctoral Scholars began honoring exemplary faculty mentors in recognition of the importance of excellent mentorship for postdoctoral research success. Today, through the Postdoctoral Scholars Mentoring Award the Postdoctoral Association at UCLA continues that tradition.
UCLA faculty members were honored at the Postdoctoral Scholars & Mentors Awards Ceremony on September 25, 2018 to express gratitude for their remarkable mentorship of  postdoctoral scholars. Fifteen faculty were nominated for the award and two were selected to receive the award which is meant to recognize faculty who:
act as positive role models
develop a supportive lab or work environment
collaborate in the research project
encourage confidence and creativity
foster excellent written and verbal communication skills
help establish professional networks at this campus and others
actively support the transition from postdoc to independent research or other career
2017/18 Awardees
Christopher Giza, Neurosurgery
Nominated by postdoctoral scholar: Saman Sargolzaei
"Dr. Giza has clearly shown excellent understanding of the importance of diversity, respecting and promoting equity and inclusion. He is a very humble individual with a great personality [and] he mentors people with heart."
From a former postdoc: "Dr. Giza's example has made me a better mentor. I find that I reach out more to junior faculty and fellows because of him – a sort of 'paying it forward', so to speak. I distinctly remember how good it felt to know he had respect for my achievements and faith in my future endeavors. He made me feel that my failures were no different from his nor from any other researchers."
Patricia Johnson, Microbiology, Immunology, and Molecular Genetics
Nominated by postdoctoral scholar: Francie Mercer
"Patricia shares openly about challenges in her personal and professional life with her mentees. I therefore knew I could always go to her about personal challenges that arose during my postdoc, and had a role model that was able to excel at her job while dealing with all of the curveballs that life throws."
"[She] is outspoken about the need for a diverse scientific community and has created opportunities for countless trainees in her lab from all kinds of backgrounds and identities, including LGBT, first generation, international, Latinx, black, Muslim, pregnant women, and mothers."
2017/18 Nominees
James Bowie, Chemistry and Biochemistry
Thomas Carmichael, Neurology
Bowen Chung, Psychiatry
Nina Eidsheim, Musicology
Nasr Ghoniem , Mechanical and Aerospace Engineering
Christopher Giza, Neurosurgery
Kent Hill, Microbiology, Immunology, and Molecular Genetics
Yu Huang , Materials Science and Engineering
Patricia Johnson, Microbiology, Immunology, and Molecular Genetics
Leanne Jones, Molecular, Cellular, and Developmental Biology
Michael Jung, Chemistry and Biochemistry
Seulgi Moon, Earth, Planetary, and Space Sciences
Ali Mosleh, Materials Science and Engineering
Ertugrul Taciroglu, Civil and Environmental Engineering
Tommaso Treu, Physics and Astronomy
Past award recipients
2016
Michael F. Green, Psychiatry
Edithe. D. London, Psychiatry and Biobehavioral Sciences; Molecular and Medical Pharmocology
Richard Wirz, Mechanical and Aerospace Engineering

2015
Aydogan Ozcan, Electrical Engineering & Bioengineering
2014
Michelle Craske, Psychology
Luisa Iruela-Arispe, Molecular, Cell, and Developmental Biology
2013
Douglas L. Black, Microbiology, Immunology, Molecular Genetics
Kendall N. Houk, Chemistry and Biochemistry
2012
James Bowie, Chemistry and Biochemistry
Mark Cohen, Neuroscience
Kelsey Martin, Biological Chemistry